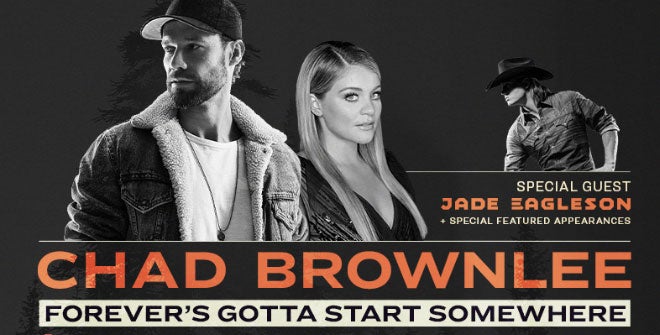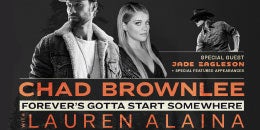 Chad Brownlee - CANCELLED
Due to unforeseen health concerns that will not allow Chad Brownlee to perform at the previously announced Ontario dates of the "Forever's Gotta Start Somewhere 2020 Tour", these shows have been cancelled.

"I apologize for any inconvenience this decision may have caused," said Brownlee, "It's not one I take lightly and ask for everyone's patience and understanding at this time. I look forward to visiting London, Toronto, St. Catharines, Peterborough, Oshawa, Kitchener and Ottawa in the near future".

As previously announced, the western leg of this Chad Brownlee "Forever's Gotta Start Somewhere 2020 Tour" is still planned to be announced on August 25.

Refund Information
Customers who paid online or over the phone (credit card or Visa Debit) will be automatically refunded next week. The refund will take a few days to appear on your statement, depending on your bank's policies and processing times.
Customers who used a credit card in person at the ticket office will also be automatically refunded. Please note – this does NOT include Visa Debit cards used in person.
Customer who used cash, Interac or paid in person using Visa Debit must return their tickets to the Tribute Communities Centre Ticket Office for a refund. The deadline to obtain a refund is April 10, 2020. Tickets can be returned at the ticket office during regular ticket office hours which are 10am to 6pm Monday to Friday, and 10am to 4pm Saturday.
Questions regarding refunds can be directed to the Tribute Communities Centre Ticket Office at 905-438-8811.
---
Coming off his most successful year to date, today, award-winning Universal Music Canada country music star Chad Brownlee announced the Ontario leg of his 2020 Forever's Gotta Start Somewhere Tour with Lauren Alaina and special guest, 2019 CCMA Rising Star Award recipient, Jade Eagleson including their stop in Oshawa at the Tribute Communities Centre on March 30, 2020.

Beginning in London Ontario on March 25th, this leg of the tour will hit seven Ontario cities with Brownlee's largest and most explosive production to date. His two-song guest appearance on the record-breaking "Friends Don't Let Friends Tour Alone Tour" gave country music fans nationwide a taste of the infectious energy, and vocal acrobatics that overflow out of Brownlee every time he hits the stage. Adding one of the best vocalists that the country genre has ever seen, in Lauren Alaina, and the rich and timeless country vocal of Jade Eagleson to Brownlee's soaring melodies, and powerhouse vocal chops is sure to leave country fans speechless.

The Fall 2020 Western Canadian portion of the tour will be announced on August 25, 2020. "I don't think I've enjoyed performing these songs more than I do right now, and can't wait to get on that stage and hear all of you sing them back in 2020," says Chad Brownlee. "Along with Lauren Alaina and Jade Eagleson, I'm excited to finally hit the road on my own tour!! It's going to be a show you've never seen before.

Tickets are available to the public on Friday, December 20, 2019 at 10:00am online at tributecommunitiescentre.com, by phone and in person at the Tribute Communities Centre Ticket Office.
Event Times
Monday, March 30, 2020

7:00 PM