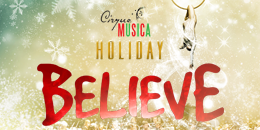 Dec 16 , 2017

Ticket Office

1-877-436-8811

*Tickets subject to applicable fees


If you have a pre-sale password, click here

$49.99, $59.99, $75.00
Cirque Musica Holiday
Presents Believe
Spectra by Comcast Spectacor, the providers of Venue Management and Food Services & Hospitality to the Tribute Communities Centre is thrilled to announce that CIRQUE MUSICA HOLIDAY presents BELIEVE is coming Saturday, December 16, 2017 at 7:30pm. This all-new show will be performed in Oshawa with the Peterborough Symphony Orchestra. Tickets go on sale this Friday, September 15 at 12:00PM and can be purchased at www.tributecommunitiescentre.com, in person at the ticket office or by calling 1-877-436-8811.
CIRQUE MUSICA HOLIDAY presents BELIEVE, an all-new concert experience, is a fun filled family holiday event featuring the cast of Cirque Musica together with all-time favorite holiday songs performed by a live orchestra. Cirque Musica is a concert and visual experience where audiences journey into a world of high-flying adventure with amazing acrobats, aerialists, hilarious hijinks and holiday cheer, too! The show blends the spell-binding grace and dare-devil athleticism of today's greatest circus performers with the sensory majesty of the greatest holiday music of all time.
CIRQUE MUSICA HOLIDAY presents BELIEVE is the perfect opportunity for the entire family to experience great holiday music LIVE while enjoying an edge of your seat circus experience.
CIRQUE MUSICA HOLIDAY is produced by TCG Entertainment.
Event Times
Saturday, December 16, 2017

7:30 PM