Our Top 6 Favourite Artist Gifts
Finding the perfect gift for someone can be tricky, especially for those who have everything they need. Typically for those people in our lives, we would look at experiences or an activity such as concerts, sporting events or a play but when our friends are only staying in town for the evening, we have to get a little more creative.

With the holidays coming up, we thought we'd share some of our favourite gifts Spectra have given artists over the years who have performed at the Tribute Communities Centre.
---

6. Sports Memorabilia
While we typically avoid using jerseys as a gift option for our guests, we couldn't help ourselves but drape this comedian in our home team's colours. When Gerry Dee performed in Oshawa in 2016, it was the largest, sold out crowd he had performed in front of during his career so we wanted to commemorate it with something truly special. We knew Gerry was a big hockey fan so we decided to gift him with a personalized Oshawa Generals jersey to go along with his giant, sold out ticket. We also had a feel he would return to the city and sure enough, he rocked the jersey while dropping the puck at an Oshawa Generals game in 2018.

Does anyone else remember Gerry Dee Sports Reporter on The Score? We're still hopeful he'll do a few more awkward interviews in the future.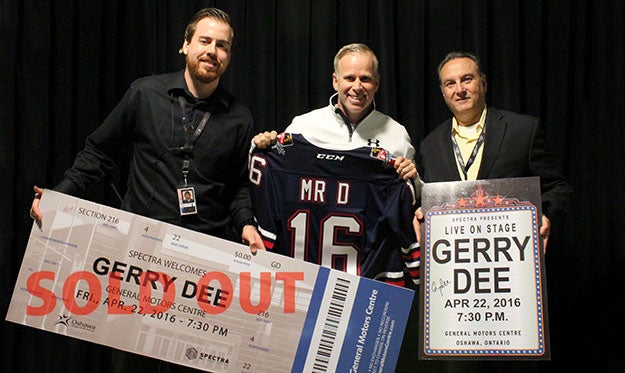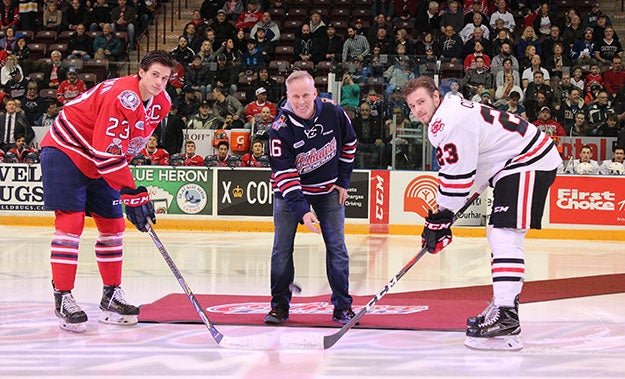 ---

5. Did somebody say cake?!
Two completely different events, but a similar gift idea worked for both. Is the way to a man's heart really through his stomach? Well in these two cases, the saying was proven.

The Wiggles Big Birthday Tour was coming to Oshawa in 2012 and we knew just how to celebrate! CAKE! We connected with a local bakery who created a three-tiered big birthday cake to celebrate the 21 years together as the original group. In 2013, the group's founder -- Blue Wiggle Anthony Field -- was joined by new Wiggles Lachlan Gillespie, Simon Pryce and the first-ever female Wiggle, Emma Watkins.

We also presented Gordon Lightfoot with his own custom cake during his November 16, 2018 visit to the Tribute Communities Centre as he was celebrating his 80th birthday the next day. The Canadian musician and songwriter was presented a cake in the form of a record player designed by the Sugar Chalet which him and his family were in awe of.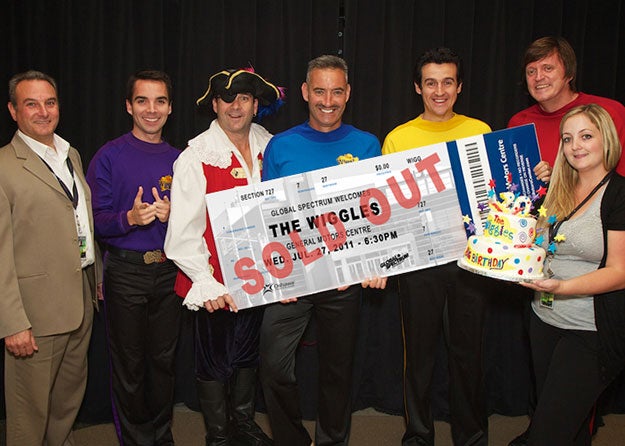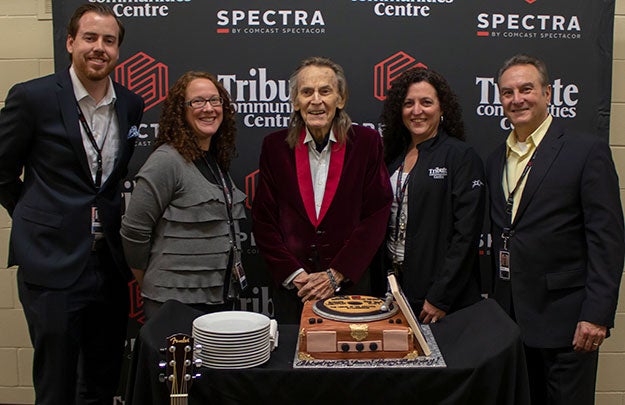 ---

4. Movies
In April 2014, R5 performed at the Tribute Communities Centre and is one of the few group gifts highlighted on this list. R5 consists of five members who are mostly all siblings. Riker, Rydel, Rocky, and Ross are four of five siblings while Ellington goes by his last name Ratliff in order to fit with the pattern of names all starting with "R."

The members were all born in the 90's and we learnt that the extended family enjoyed watching movies together while on tour which sparked our gift idea.
We found some top movie picks and packaged them up with some Crazy Corn popcorn, caramel corn and customized soda bottles. We then melted some damaged records and used them as the popcorn bowl to package it all together.
The group loved the personal touch and now we're wondering what movie they watched first…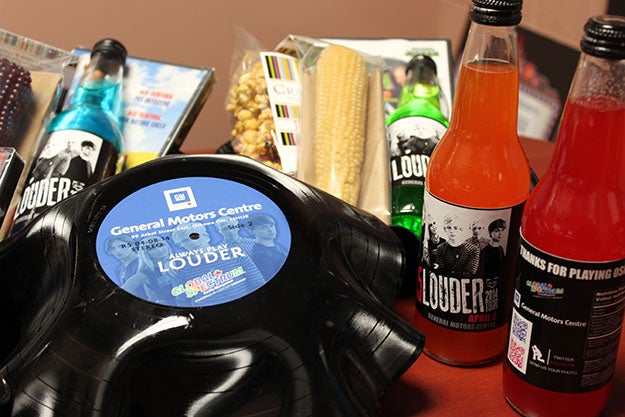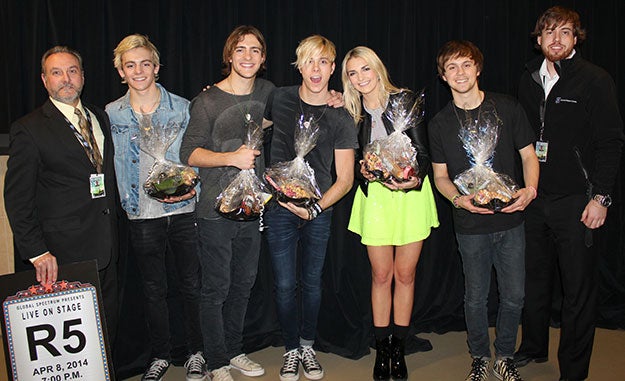 ---

3. Tools
Vanilla Ice headlined the I Love the 90's Tour and we were looking at ways to throw it back with some old school flair. His reality television show, The Vanilla Ice Project had been on the DIY Network for a few years at that point and we thought we could design a custom construction hat for him when he's not on the live stage.

It didn't take us long to figure out what we wanted to have painted on the oddly-shaped canvas. We turned up the Go Ninja, Go Ninja GO! rap scene from Teenage Mutant Ninja Turtles II and reached out to local artist Lee Howard to start on the masterpiece.

The result? A custom-painted hard hat with the four turtles, ooze and all!
Ice couldn't believe it and promised not to wear it on his next job site. We know he held onto it as he recently posted about it again on his Twitter and Instagram.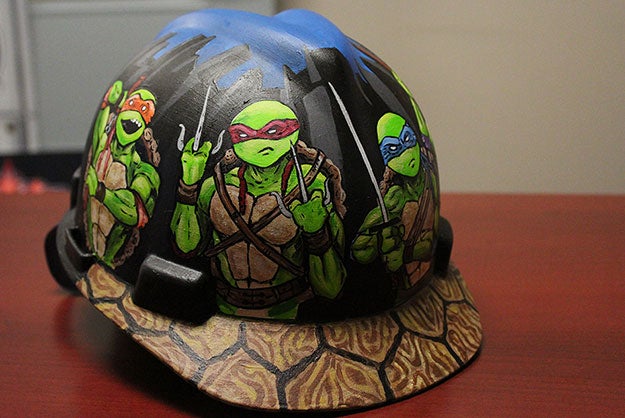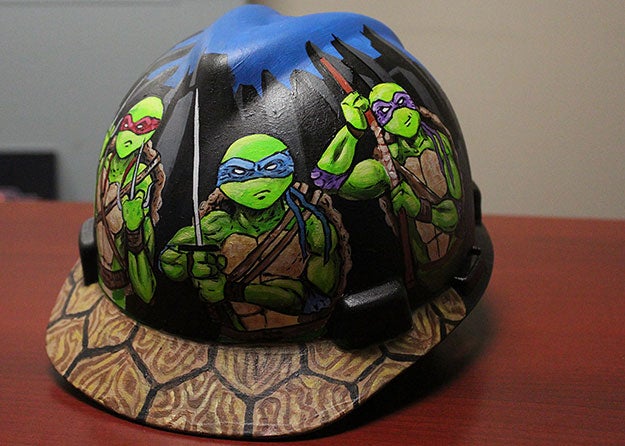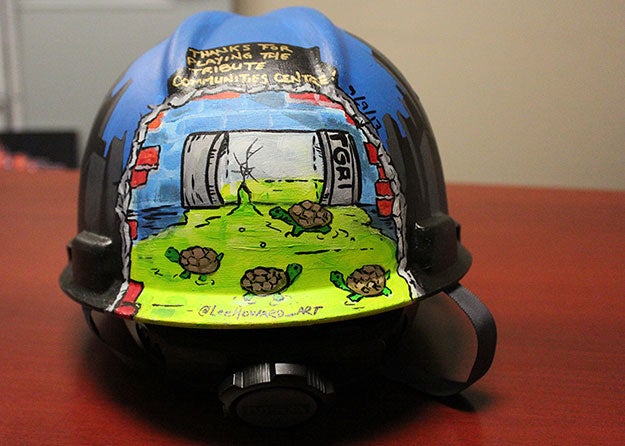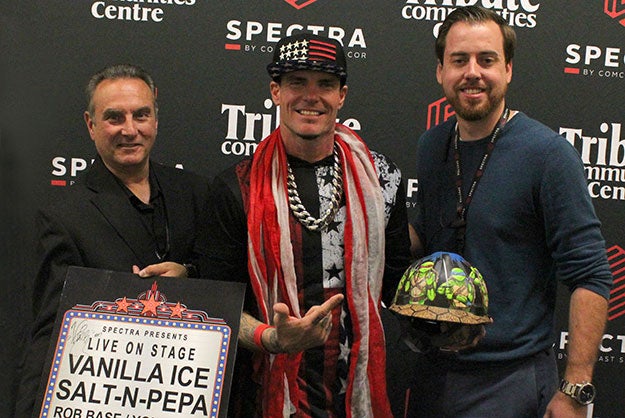 ---

2. Nightmares
Everyone knows his name and we were thrilled to have Marilyn Manson perform in Oshawa. Finding him a gift that was unique and that he would appreciate was going to be a big challenge but we were up to the challenge.

Not many people know but Manson actually enjoys painting with watercolours. You can find some of his artwork online if you don't believe us. We found a compact, travel kit that contained all the necessities to be able to paint on tour which came in a nice bamboo case that we had etched with his logo as well as his performance date (January 29, 2013). To help get the creative juices flowing, we also included a bottle of absinthe.

The main part of this gift was created again by local artist Lee Howard. He is the creator of the original Quiet Room Bears and we knew we had to get our hands on one of his furry, mutilated horror creatures for Manson and Lee definitely pulled through for us.

Manson was actually in disbelief with the gift and told us that we were more f***ed up than him. We'll take that as a compliment.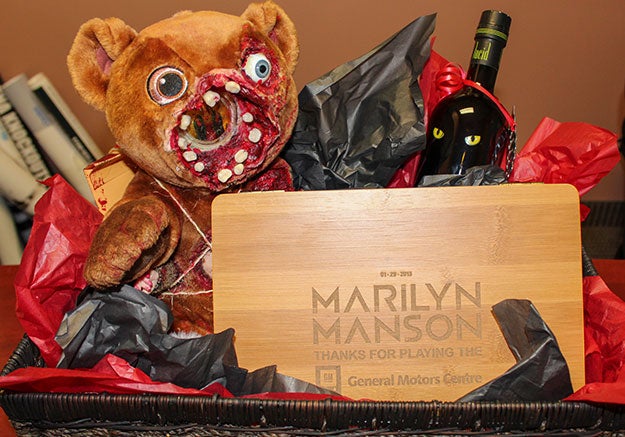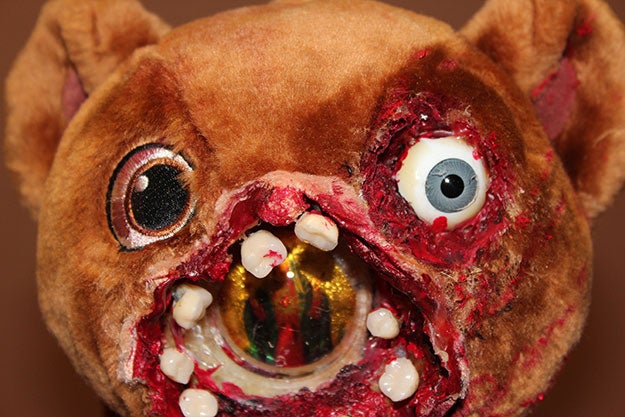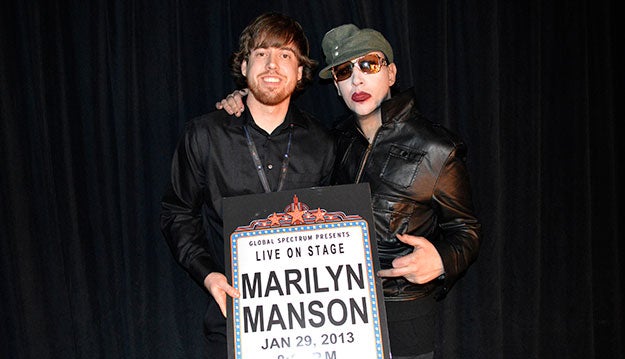 ---

1. Navigation System
If you live in Oshawa, you probably heard that back in 2012 Jann Arden was kicked off the VIA train en route to Ottawa from Toronto due to her mini pup Midi being with her. Once off the train, Jann tweeted she was left in the "middle of nowhere" and residents took it to heart rather than just a figure of speech.

In 2014, we announced that Jann Arden would be coming to the Tribute Communities Centre (then known as the GMC) and we couldn't have been more excited! We also had the perfect gift idea in mind to poke fun at the incident and misunderstanding in 2012.

We knew Jann had a sense of humour and the gift could've went one or two ways but we were willing to take the risk on this one. We decided to buy her a compass and had a special engraving done on the cover of it. On it, we had written 'In case you truly find yourself in the Middle of Nowhere" one day.' along with the coordinates of our venue. She was definitely surprised and loved it and found her way back to Oshawa for another show in 2018.

For those wondering, we didn't forget about Midi either. We made sure to show her some love as well so we made sure to pick her up a bunch of treats and some toys to keep her occupied.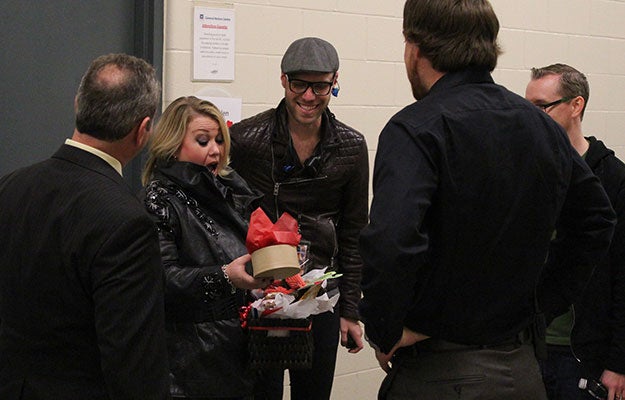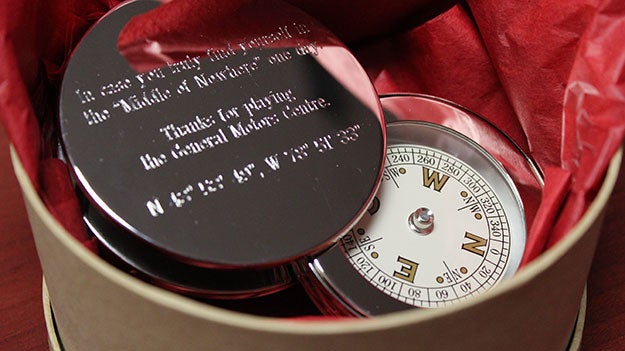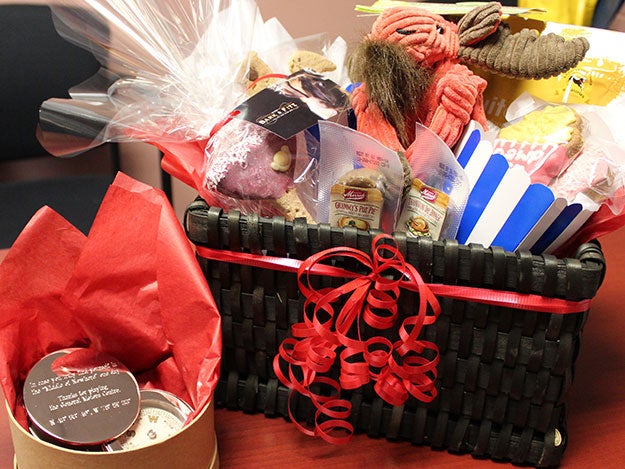 ---
If you're having a hard time this holiday season finding the perfect gift for your loved ones, remember that event tickets are one of the best presents you can give for any occasion. Whether it's Christmas, a birthday, or any other holiday, tickets to an event will create memories that will last a lifetime.
Check out our upcoming events at the Tribute Communities Centre to see if they would be a great fit for those on your shopping list!