Our Top 5 Favourite Contests
Spectra has organized many contests over the years at the Tribute Communities Centre so we thought it would be fun to narrow them down and highlight our top five favourite contest we've offered over the years. Can you guess any of the Top 5? Were you one of our winners?
---
5. Do you have a SuperDog?
We teamed up with the SuperDogs in advance of their December 28, 2012 show at then General Motors Centre (Tribute Communities Centre) and invited the public and their canines to the venue to give fans a sneak peek at what they could expect to see at the upcoming show but also to showcase what type of special tricks their own pups could do.
The contest allowed fans the chance to show their dog's special talent to some of the SuperDogs Trainers with the top dog to appear in the spotlight at the SuperDogs show and tickets for their humans.
Some of the contestants ended up with cold paws, but a few stars caught our judges' eyes when they danced, jumped, leaped and more.
As Dog Lovers, we really enjoyed this contest. Mostly because we hung out with dogs all afternoon!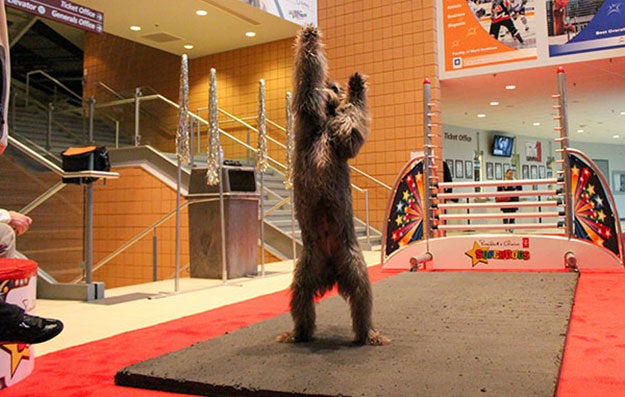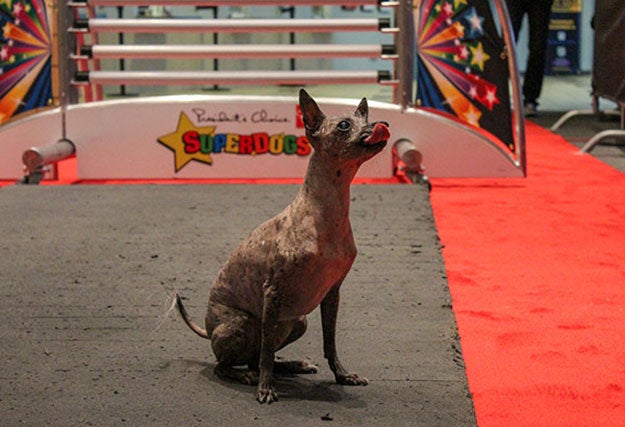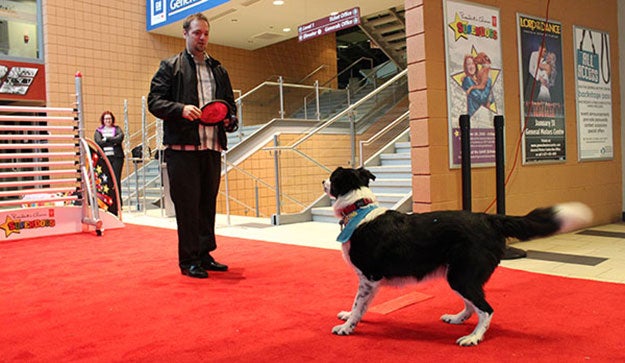 4. NHL Road Trip Giveaway
In September 2018, we hosted our first NHL Preseason Game between the New York Islanders and the Buffalo Sabres. Fans were excited to see Oshawa Generals' alumni including John Tavares, Cal Clutterbuck, Calvin de Haan, Michael Dal Colle, and Mitchell Vande Sompel wearing the Islanders colours as well as the opportunity to watch Rasmus Dahlin in action, the number one pick in the 2018 NHL Draft and Buffalo's newest defenseman.
On Canada Day, John Tavares surprised many and signed with the Toronto Maple Leafs, the team he grew up cheering for, making Islanders fans weary of their future. We knew we had to create some additional excitement around this game and aligned a prize that allowed a fan and their guest to fly to New York to catch the regular season matchup between the Islanders and Sabres at Nassau Coliseum. The winner received airfare, hotel, game tickets and a prepaid credit card to take care of other expenses.
Although JT signed with Toronto, the Islanders ended up proving their young talent were ready to prove the pessimists wrong and took on the 2018-2019 regular season in full stride matching the Washington Capitals 48-win record but fell short by one point resulting in the second position for the Metropolitan Division.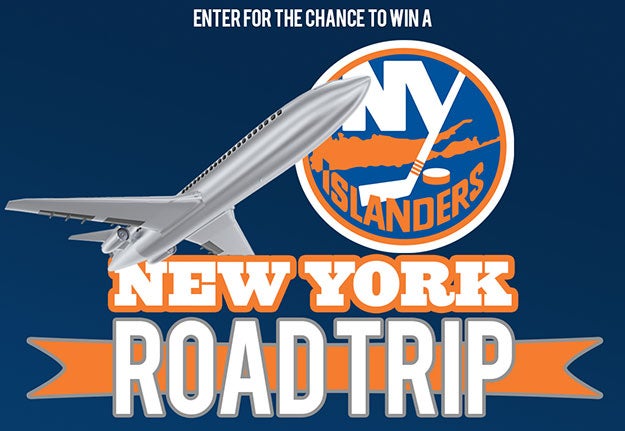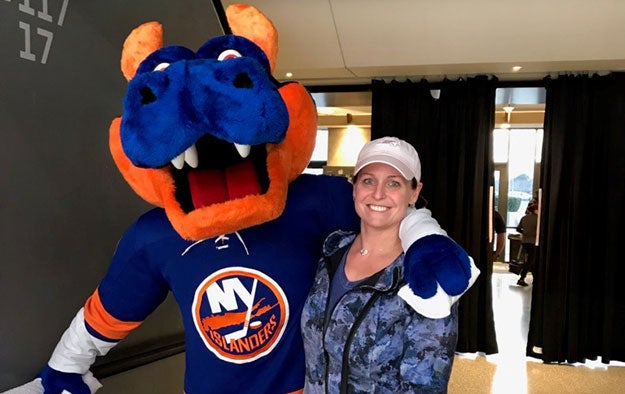 3. Meatloaf Eating Competition
There was a big serving of meatloaf in 2010 at the Tribute Communities Centre (then known as the General Motors Centre) as Meat Loaf performed at the venue on July 6, 2010. It was only appropriate that Spectra held a Meatloaf Eating Competition to see if contestants would "do anything for Meat Loaf tickets".
For those who may be confused between meatloaf and Meat Loaf:
Meatloaf is a dish

of ground meat

that has been mixed with other ingredients and formed into the shape of a loaf

, then baked

or smoked

. The final shape is either hand-formed on a flat pan or created by cooking it in a loaf pan

. For this contest, our team created smaller, puck-sized portions to make it easier to count how many were consumed.

Michael Lee Aday, known professionally as Meat Loaf, is an American singer and actor. He is noted for his powerful wide-ranging operatic voice and theatrical live shows. His Bat Out of Hell trilogy of albums has sold more than 50 million albums worldwide and is one of the best-selling music artists of all time.
The task was simple, but maybe not quite so easy on their digestive systems. The contestant who finished their plate first, or ate the most meatloaf within 10 minutes won the prize. Only one contestant cleared the plate and took home the grand prize.
Contestants had the chance to win a pair of suite tickets to the July 6, 2010 concert along with a '"Hang Cool Teddy Bear" CD by the artist. Spectra awarded five winners with the grand prize winner receiving meet and greet passes to meet the legend himself before his performance.
No one left with an empty belly, so everyone was technically a winner.


2. Ice Ice Baby
When the I Love the 90's Tour announced it was coming to Oshawa, we had to stop jumping with excitement as our Discman kept skipping. Vanilla Ice, Salt-N-Pepa, Rob Base, Young MC, and C+C Music Factory were coming to take us back in time to the 90's and fans were excited!
It was another hot show coming to the Durham Region and we knew we had to find a way to cool way to give away a pair of tickets. We took advantage of our walk-in freezer, and froze a pair of tickets in a block of ice. We should mention that it was a big block of ice.
We then hauled the ice up to the TCC roof and held a broadcasted a live Facebook feed where fans could guess how many times Vanilla Ice's 'Ice Ice Baby' (album version) could play on repeat in full, before the ice completely melted. Only one guess was permitted and only one winner was selected. The winner had to be the closest to the actual number of times the song plays without going over (it's pretty much a rule you have to do Price Is Right rules, right?).
The ice block took 1 day, 6 hours and 46 minutes to melt completely. We started on Wednesday, August 23, 2017 at 10:28am and the ice was fully melted by Thursday, August 24, 2017 at 5:14pm.
The live feed reached more than 388,000 people, 47,000 views and 2,800 comments.
Many viewers thought we counted each individual song when it played but we actually did it a much easier way. We determined the winner by using the length of time it took the ice to melt and dividing the length of the song to determine the correct answer and winner.
For example:
1 day, 6 hours, 46 minutes = 110,760 seconds
The song is 4 minutes and 31 seconds = 271 seconds per song
110,760 seconds / 271 seconds = 408 full spins of Ice Ice Baby
Unfortunately, there were no fans that guessed correctly, but there were three fans that guessed 407 so we decided to bend the rules and award all three fans with a pair of tickets for the show.
Who knew that watching ice melt could be this much fun?!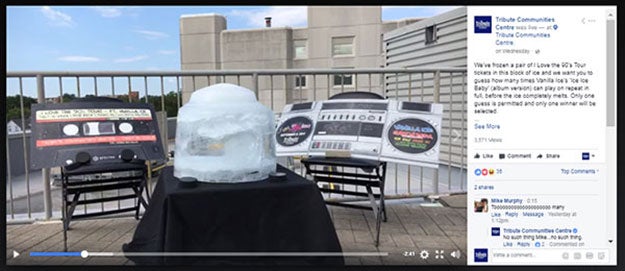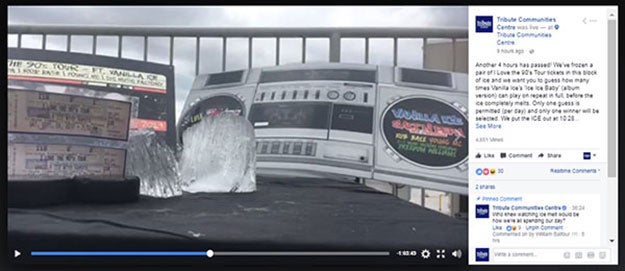 1. The Big Ticket
Our biggest contest has to be in the number one spot!
The Key to the TCC (GMC) is in it's 10th year and we don't plan on stopping anytime soon! Many dream about winning and we can confirm that past winners LOVE the prize.
"Winning the Key to the GMC was truly amazing and also a real eye opener," expressed Bob Parr, the winner of the 2011 Key to the GMC(TCC) contest. "At the time, I had no idea what a great facility it was for every type of event. In my view, the quality of content and talent at the centre in the last five years has grown by leaps and bounds."
The Key to the TCC awards one lucky fan with two tickets to every event at the Tribute Communities Centre for the calendar year. For this year, we thought we'd increase the chances of winning and will be giving away nine runners up prizes including Oshawa Generals tickets and merchandise to celebrate 10 years of the contest. For 2020, the grand prize already includes tickets for the NHL Alumni Benefit Game between Montreal Canadiens and the Toronto Maple Leafs, Brantley Gilbert, We Will Rock You, Kane Brown, Harlem Globetrotters, Miranda Lambert, and many more events yet to be announced!
Entering is easy and takes only seconds. Visit www.tributecommunitiescentre.com/contest, complete the form and you have a chance at winning one of the 10 prizes.
(You can receive bonus entries if your friends and family enter the contest through the unique link you receive after entering.)
"I have had a great year getting to attend so many amazing concerts and Generals games," said Allyson Polidano, the 2017 Key to the TCC winner. "My favorite was the I Love the 90's concert where 10 of my girlfriends took over a row and sang the words out to every song. I lost my voice for a couple days after. I love a concert where everyone is dancing and singing."
You can't win if you don't enter. All you have to do is ask one of our nine past winners who were all shocked when we called them and handed over the keys.
GOOD LUCK
www.tributecommunitiescentre.com/contest