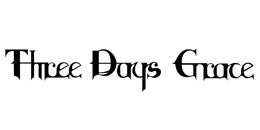 Three Days Grace
The Outsider Tour with special guests Nothing More and Bad Wolves
Three Days Grace, the internationally acclaimed and multi-platinum certified Canadian band, confirms the 16-date "The Outsider Tour" of their native Canada in support of their sixth full-length album, Outsider. Said drummer Neil Sanderson about the forthcoming tour: "as cool as it is to tour and experience the world, there's nothing better than going coast-to-coast for all our fans here at home. Can't wait!"
The group will perform in Oshawa at the Tribute Communities Centre on Friday, November 30, 2018 and tickets will go on sale to the public on Friday, July 20, 2018 at 10:00am online at tributecommunitiescentre.com, by phone at 1-877-436-8811 and in person at the ticket office. Every pair of tickets purchased for the upcoming Canadian headline shows will include a physical CD or digital download copy of Outsider. Watch a new trailer for the "The Outsider Tour" here.
"Infra-red" is the new single from Three Days Grace's sixth studio album Outsider. The song is the follow up to their 14th #1 chart topping single "The Mountain," also featured on Outsider. Three Days Grace continues to hold the all-time record for most #1 singles at the Active Rock radio format. The music video for first single "The Mountain" which Alt Press called a "…seismic new single" has been streamed over 14M times on YouTube alone. Taped at a UFC octagon, the music video for Outsider's first single was directed by Sean Cartwright and features a cameo by UFC fighter Misha Cirkunov.
Recently, Three Days Grace was featured Golf Channel's "Morning Drive Show," where they teed off with professional long driver, Kevin Shook. Watch the segment here.
Three Days Grace also debuted "I Am An Outsider," the second track from their forthcoming album, along with the album's tracklisting via Billboard, who say "I Am The Outsider" "…defines both the theme of Three Days Grace's upcoming album Outsider and the Canadian band's lyrical outlook in general." Read Billboard's interview with drummer Neil Sanderson and listen to "I Am An Outsider" here. The band also debuted their lyric video for "Right Left Wrong," the third track revealed from their forthcoming album via Revolver who call it a "propulsive new song." Check out "Right Left Wrong" via Revolver here.
"To me, Outsider represents the journey to find your place," says bass player Brad Walst. "The world feels crazy at times. We try to get away from that every once in a while. We do our own thing, and we're comfortable doing it. We have always looked forward—and not backwards. That's an ongoing theme." Purchase Outsider on all formats here.
Given this undeniable unpredictability, Outsider feels right at home alongside a catalog of fan favorites from Three Days Grace. Since 2003, the band has staked a spot amongst the hard rock vanguard, breaking records, toppling charts, moving millions of units worldwide, and making history by holding the all-time record for "most #1 singles at Active Rock Radio ever" with 14. In 2015, Human marked the group's second straight #1 slot on the Billboard Top Hard Rock Albums Chart as well as their fourth consecutive debut in Top 20 of the Top 200. It spawned two #1 singles "Painkiller" and "I Am Machine," signaling their 13th overall and 5th consecutive number ones on the Active Rock Radio chart. Moreover, the four-piece consistently averaged a staggering 3.9 million monthly listeners on Spotify—remaining one of the most listened to rock bands in the world. In 2012, Transit of Venus soared to the Top 5 of the Top 200 and garnered a nod for "Best Rock Album of the Year" at the Juno Awards. The seminal One-X [2006] notched an RIAA triple-platinum certification as Three Days Grace [2003] was minted platinum and Life Starts Now went gold. To date, their veritable arsenal of number one includes "Chalk Outline," "The High Road," "Misery Loves My Company," "World So Cold," "Good Life," "Break," "Never Too Late," "Animal I Have Become," "Pain," "Just Like You," and "Home."
Event Times
Friday, November 30, 2018

7:00 PM